This At-Home Hair Restoration Treatment From KeraFactor Really Works
If you have naturally thin hair, age-related hair thinning, or you've just completely destroyed your hair with bleach (we've all been there), you need some magic. More accurately, you need to try the hair and scalp treatment system from KeraFactor. I've been using their Scalp Stimulating Shampoo & Conditioner, as well as their Scalp Stimulating Solution. And I love how easy it is to use! It almost feels like cheating… Or the ultimate life hack.
Scalp Stimulating Shampoo & Conditioner ($44.10 with code SHEFINDS10)
Developed by dermatologists, the KeraFactor hair restoration and scalp health treatment system is a breakthrough formula that will give you results from the comfort of your own home. Think of it as skincare for your hair and scalp. The super concentrated formula delivers a tingly burst of proteins and growth factors to your scalp… Meaning: healthier, fuller-looking hair. Even better, their products are drug-free, hormone-free, cruelty-free, gluten-free, paraben-free, and totally vegan!
By studying scalp growth factor deficiencies during hair loss and poor hair health, dermatologists created the patented KeraFactor Peptide Complex. It contains 7 polypeptides, the proteins and growth factors are wrapped in nano-liposomes. Listen, I'm not a scientist (and I'm assuming you're not either). But, basically, this means that they have the highest concentration of growth factors and skin proteins while optimizing scalp absorption—you'll get the most out of it!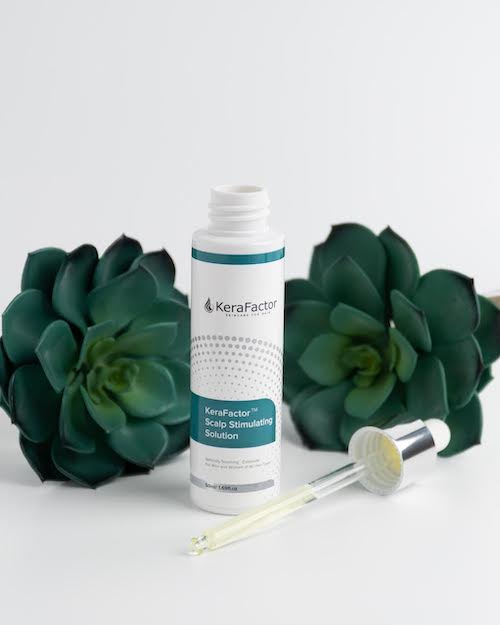 Scalp Stimulating Solution ($152.10 with code SHEFINDS10)
Available as a Scalp Stimulating shampoo/conditioner and a potent solution, the KeraFactor treatment system helps hair at all 4 stages of the hair life cycle to encourage scalp rejuvenation as well as hair restoration. Just use the Scalp Stimulating Shampoo for your wash days and/or use the Scalp Stimulating Solution in the mornings or evenings, concentrating the dropper solution on specific problem areas. There's no strong smell or weird residue—you'll forget you even used it. That is, until you start seeing the results.
We all know that thick, luscious, healthy hair can do wonders for your self-confidence. That can be hard to come by, especially if it seems your best hair has passed you by over the years. But don't give up! KeraFactor is there for you. And you can get 10% off your KeraFactor purchase with our exclusive code SHEFINDS10. Good luck and happy haircare!
SheFinds receives commissions for purchases made through the links in this post.
The editors at SheFinds wrote this post on behalf of KeraFactor and received compensation as part of our agreement.
---