THE KEY FACTOR
IN SCALP HEALTH
NOW AVAILABLE FOR HOME USE
KeraFactor Peptide Complex (KFP) is a breakthrough formulation containing 7 Polypeptides, carefully curated by Dermatologists. KFP proteins and growth factors are wrapped in nano-liposomes to provide optimum absorption by the scalp.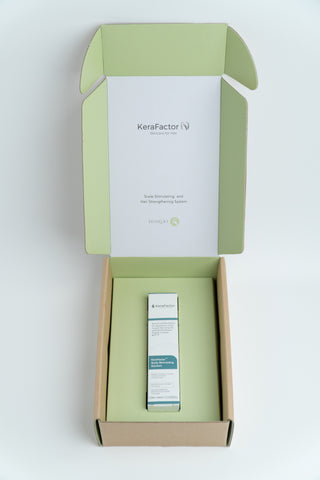 THERAPY SYSTEM FOR
HEALTHIER SCALP AND HAIR
Scalp Science without the Additives
Hormone free
Hair Loss Treatment
Developed by dermatologists, our highly concentrated formula delivers a tingly burst of proteins and growth factors to your scalp, resulting in healthier, fuller-looking hair. 
DONT TAKE OUR WORD FOR IT
★★★★★

I started experiencing hair loss about 6 months ago, overall thinning from stress. Looking for something to help, my Dermatologist suggested KeraFactor. I have been using KeraFactor Solution daily for 3 months now, I am noticing an overall thickening of my hair, plus lots of tiny hairs right around my hairline

★★★★★

"After bleaching my hair (and stripping out the nutrients) for so many years I didn't think I'd ever get it's natural texture back. Thanks to KeraFactor my hair is smooth, shiny and so much more manageable!"

★★★★★

I've been very diligent about using the shampoo and the solution every day, and it's made a difference—I'm shocked. My ponytail feels fuller and is shinier.

★★★★★

My hairdresser says she can tell a significant difference in my hair. It feels fuller, stronger, and healthier. I am so happy with my hair transformation. Thank you KeraFactor!

★★★★★

"I have been using Kerafactor Scalp Stimulating spray and shampoo for three months and have noticed increased hair fullness in the balding section of my scalp and an associated thickening of my hair generally. It is a remarkable new product that is simple to use and shows incredible immediate results."

★★★★★

"As a woman who always had a thick head of hair, it was devastating to realize that my was noticeably thinning. After a couple of months using KeraFactor my hope was restored! Tiny new hairs were visible where there had been none. Even my hair dresser commented on it! 

★★★★★

"Hats off to Kerafactor, very pleased with the he quality of the product. After 6 months I'm seeing a significant reduction in hair loss on my pillow and shower and feeling my hair get thicker. Can't recommend this product enough, real science!"

★★★★★

I have faithfully continued use of Kerafactor products over the past year and truly feel that it has restored my hair and my spirits! Cannot say enough. I will continue with KeraFactor solution and shampoo + conditioner. As an added benefit, the shampoo + conditioner has made my hair softer and healthier. It is so concentrated that a little goes a long way so the small bottle is deceptive in that it lasts a while. Highly recommend. ⭐️⭐️⭐️⭐️⭐️"

★★★★★

"KeraFactor and their scalp stimulating brush are gold in our household. My girlfriend and I are hooked! We have a debate now on who's has better hair."